This is a review of the trade plan that I posted here.
Few points to highlight based on the trade plan
I'm still afraid of profit booking and a downward fall before we continue to edge higher.
This played out right at the open. We opened flat and went down, before we got bought up rapidly with very high bullishness until at the end. We were also dealing with a narrow CPR for the day. I started late today after the 3 red candles, so I started the day with 15350 PE instead of the original 15300 PE as planned. Also because we had a huge downside, I started with 15600 CE on the top instead of the 15650 CE as planned. At around 10.30 or so, when we crossed 15500, the 15600 CEs started to expand like crazy. So I switched to 15700 and eventually to 15750 as we started taking each resistance throughout the day. As I was climbing up, I also switched up the PEs by booking profits from all the way to 15450 towards the end. The last strangle I was operating was at 15450 PE and 15750 CE.

The call and put premiums seem to indicate a downward bias throughout the day. We saw 2 massive red candles at close which might be the beginning of the profit bookings as well. We also have large margin requirement starting tomorrow so not sure how it might affect the prices overall.
We gained a little over 13 points for the day today, with an ROI of about 1% on the capital deployed.
All the paper trades that I took are described below: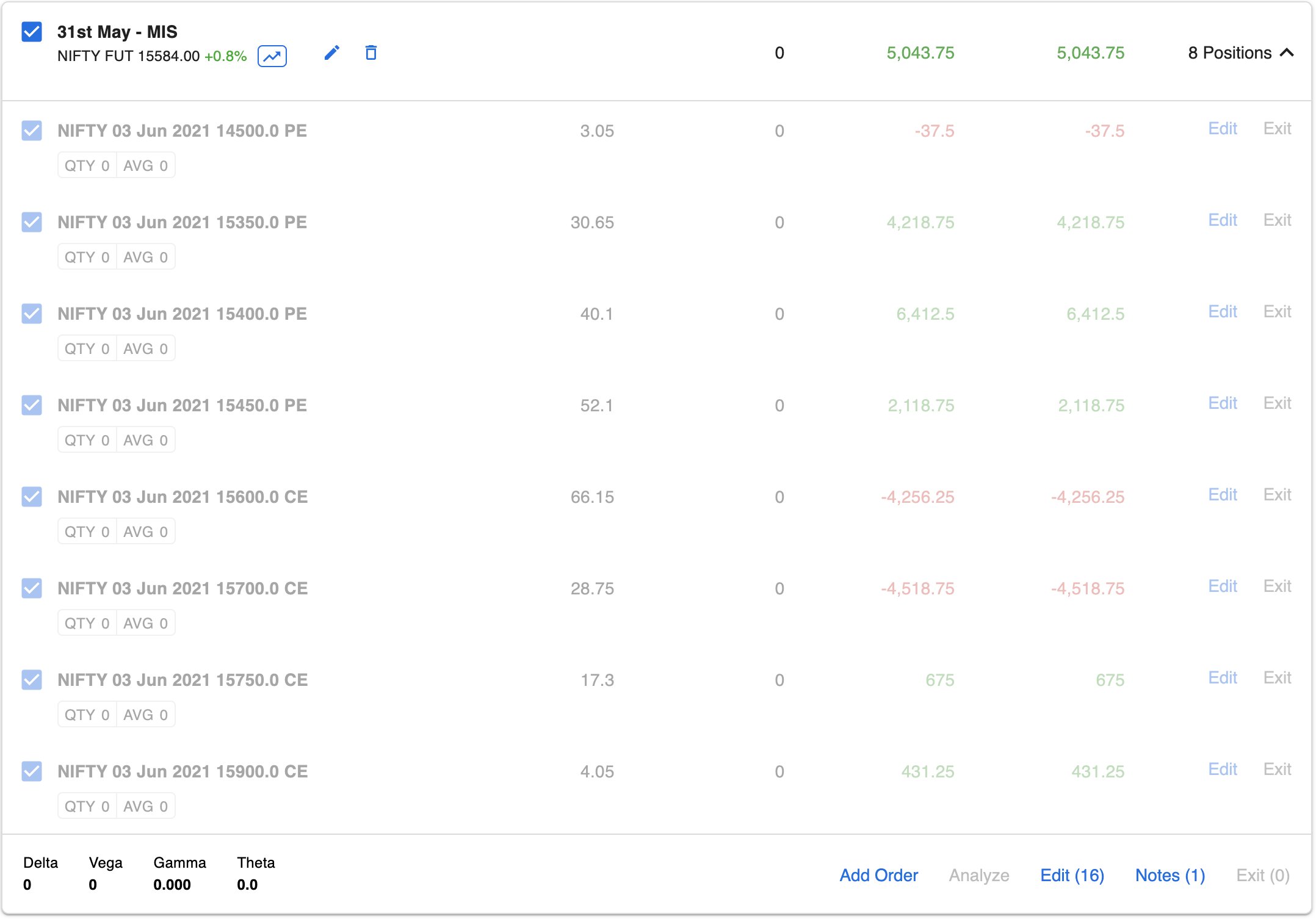 (Click to enlarge the picture)
If you're wondering why I'm taking paper trades instead of actual trades. I'm currently learning about the market and a few strategies. The idea is to learn to use the position sizes and the PnL more comfortably before diving in with real money. This also introduces me to the whole ecosystem so I could find my way around once the learning phase is over.
Large PUT side OI can be found at 15400, while a large amount of CALL side OI can be found at 16000. Tomorrow being a Tuesday, my workday schedule is fully packed, and we have new margin requirements as well. Might probably sit tomorrow out and see how things go.